One of the most effective and gentlest forms of treatment!
About Cold Laser Treatment for Dogs
What is cold laser therapy?
Cold laser therapy is a painless treatment that stimulates an animal's cells, whether the injury is acute or chronic. It accelerates cell healing and reduces inflammation in tissues.
It is referred to as a "COLD" laser, which stands for Class III Low Level Light (LLL) type device, because unlike other medical lasers, it does not emit heat, ensuring a completely painless and numb treatment. However, both the owner and the dog must wear protective goggles during the procedure.
The laser therapy transitions the tissues from the inflammation stage to the repair stage, resulting in 20% faster healing and decreased pain. The laser stimulates the formation of new blood vessels, bone, and collagen production. Moreover, it effectively reduces swelling, edema, chronic joint disorders, and especially pain by exerting an analgesic effect on nerves, particularly in cases of genetic or advanced and inoperable diseases. It also exhibits anti-inflammatory effects in other injuries, such as scars, wounds, and cuts.
Furthermore, cold laser therapy can be effectively combined with other types of treatments.
Warning
DO NOT use in case of CANCER and PREGNANCY!
It is crucial to thoroughly check contraindications, including those related to laser therapy, as the proliferation of cells stimulated by diodes is much faster than in the case of a general massage. Consequently, this accelerated cell growth could lead to a more rapid dispersion of malignant cells.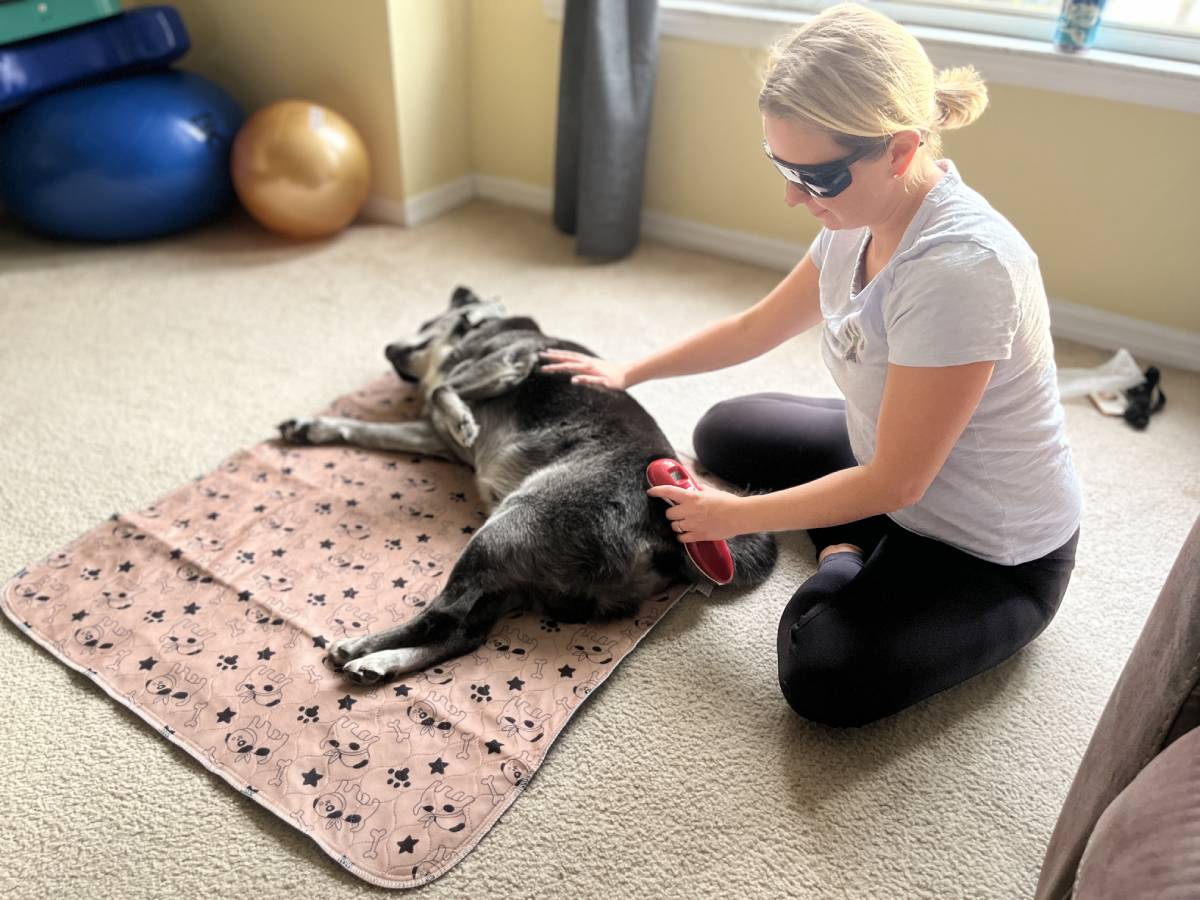 Main laser treatment areas
Acute soft tissue injuries
Chronic soft tissue injuries
Acute and Chronic pain relive
Wounds and other skin injuries
Muscle, in and ligament repair
Recommended frequency of laser treatment
You can expect to see a noticeable change after just 2-3 sessions, but for better results I recommend at least 6 sessions.
"Spot is 9 years old, and although he is not currently showing any significant mobility difficulties or pain, I know that old age joint disease can slowly set in, so Petra visits us a few times a month to keep him exercised. Spot really enjoys it and after the sessions he visibly has more energy. I want to keep him in good health as long as possible, so we will definitely continue his treatment. She and Spot seem to love each other."

"My Meck doggy had knee surgery years ago. He recovered nicely, but the doctors told me that the problem could return at any time, so I had to be very careful and watchful. Try to maintain this condition with regular exercise. I found Petra, who massages him regularly and works on him with different gymnastic exercises to strengthen his muscles - maintain his stamina, so he's in amazing shape Meck as a youngster. I would recommend her to all dog owners, she is skilful and understands the language of dogs!"
"I had realized that my dog is limbing so I took her to the vet who said start of arthritis and her joints were tight. ...then I started surfing the net and regular massage was recommended everywhere. Then I heard about Petra, so I went to see her. My loved one really enjoys her treatments, she starts with a kiss and she loves every session. She is in great shape now ...."
"Me and Pepper always look forward to meeting Petra. Pepper is a perfectly healthy, perfectly fit large poodle dog who needs lots of exercise. Even though he walks several times a day, he never runs out of energy, so Petra visits us 1x a week with her balance equipment to strengthen his skills during an intense workout. She always looks forward to the next session."
"I have heard a lot of good things about Petra from people I know, so I decided to give it a try. Because of my job, Luna is at home a lot, she doesn't get much high intensity exercise and is a bit overweight. The doctor says that with this lifestyle, she is likely to develop joint pains prematurely. She and Petra are doing a variety of treatments, which she does with great enthusiasm, always giving her a big kiss when she sees her... I'm glad that my partner and I found her, Luna's condition has obviously changed a lot."
"Petra is an excellent dog masseuse and has a super sense of finding a voice with dogs. I am very grateful to her for helping my dog. She had a severe knee sprain that had to be medically reset. She was in severe pain for a while holding her leg up, she could not put it down. She's walking on it now, use that blade. I'm sure I'll be inviting Petra for birthday massages after the treatment is over:) I sincerely recommend her to everyone."
MY DOG NEEDS A DOG MASSEUR
How to spot when you need a dog musher!
For her birthday 😊

Before and after high-intensity sports

Before and after longer and more stressful trips

The first thing that may be immediately apparent when you notice any kind of musculoskeletal abnormality in your dog. In this case, please consult a vet before anything else, as there may be compensation in their movement due to internal organ disorders!

Post-operatively or instead of surgery prescribed by a doctor: rehabilitation, exercise, treatment
If you notice any signs of musculoskeletal issues or need assistance with your dog's recovery, don't hesitate to seek the expertise of a dog musher! They can provide valuable care and support to ensure your dog's well-being.
Call me when the dog's behaviour is out of the ordinary:
Here are some specific signs and conditions to look out for:
Mood swings and discouragement

Slow metabolism

Joint pain in old age or to prevent it

Other pains

Muscle atrophy and stiffness

Limping, nodding, posterior droop, stiff neck posture

Difficulty standing up, going up and down stairs, or jumping on and off sofas

To accelerate the healing of scars, wounds, and stitches

Bone fractures

Injuries or strains to ligaments

Gingivitis

Hematoma

Insomnia
If you notice anything else that seems abnormal or concerning with your dog's behavior or health, please let me know, and I will be in touch to discuss further and provide assistance.
Book an appointment for a dog massage
Address
24206 Harbour Vista Circle
Saint Augustine, Fl 32080
Pamper Your Pup with a Massage!